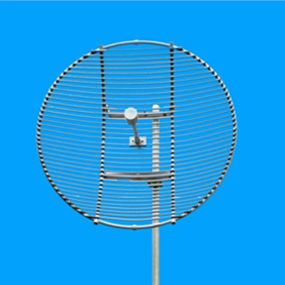 These Grid Parabolic Antennas with specified diameters and respective Antenna Gains are designed for use in Digital and Analogue Microwave Communication Systems, providing noise free and highly stable communication links. The mounting arrangement of Grid Parabolic Antennas permits to change the polarization from horizontal to vertical and vice-versa. All the screws, nuts and bolts of Grid Parabolic Antennas are of stainless steel.
Design & Construction:
Feed assembly consists of air-cored coaxial and its matching system are of high quality aluminum, free from aging, as it has no plastic or rubber parts, ensuring a life time peak performance and trouble free service.
Parabolic dish reflector is made of high quality aluminum tubes with riveted joints at the frame members.
The feed assembly can be removed from the back of parabolic dish for maintenance by removing four nuts of feed mounting studs without disturbing the main installation of the parabolic dish.
Grid Parabolic antennas are available in 350 MHz., 450 MHz. and 850 MHz. band.