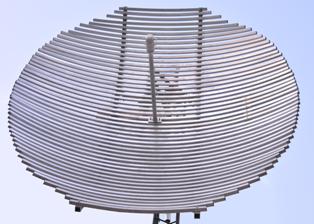 Grid parabolic Antenna Kit

To minimize and save on freight charges the Grid parabolic Antennas with dish diameter of 2.4 meter and of larger size are supplied in Grids Kits. The Grid members are supplied in form of Kit. It also saves handling charges and easy transportation to the site. The Grid Kit can be assembled with simple hand tools on ground or directly on the antenna mast which does away with hauling of the large sized dish on to the antenna mast.

Design Features:

The parabolic shape focuses energy at the feed point of the Grid Parabolic Antenna Kit. These parabolic antennas have a narrow focused beam of energy and relatively high gain compared to many other types of antennas.

Radiating elements and matching stub of Grid Parabolic Antenna Kit are made of Aluminum. The compact size of the antenna allows easy handling and specially designed mounting arrangement results in fast installation. The Grid Parabolic Antenna Kit operates at D.C. ground with low resistance discharge path for protection against lightning and immunity to noise.