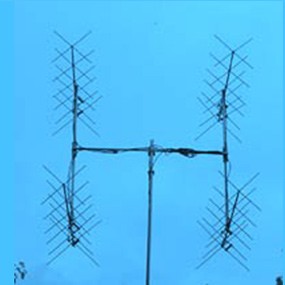 This rugged, Crossed Quad-Stacked Yagi Array for Circular Polarization consist of FOUR Yagi Antennas with crossed elements. The array of quad-stacked crossed elements four yagi antennas consists of two columns of two horizontally stacked yagis.
The Quad Array uses fixed mounting blocks on the booms of the array and all the elements and the antenna feed systems have screw threads at the ends for fixing the elements on the boom. This design makes the field assembly and the transit of the array an easy job.
The yagi antennas when packed comes with elements removed from the antenna boom for ease of packing and transportation. It can be assembled at site with the use of simple hand tools.
Design & Construction:
The yagi antenna uses a GAMMA matching feed eliminating the use of folded dipole. The antenna termination uses N-Female connector fixed on the antenna dipole.