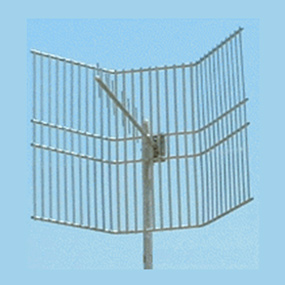 The unique design of this Yagi Antenna in 700-1000 MHz. Band delivers a very high gain of 17 dBi. from a single Yagi Antenna and an improved Front to Back Ratio of 20 dBi. due to the addition of the sectional Parabolic Trough Reflector with standard parasitic reflector of the Yagi Antenna.
The Matching section of this Yagi Antenna is completely enclosed in side the Yagi Antenna Boom imparting a stream -lined and light weight design to this Yagi Antenna. An N-Female connector is fitted at the back end of the Yagi Boom without use of any external connecting cable.
Easy to install, the Yagi antenna with a Trough Reflector is supplied complete with stainless steel mounting hardware. The use of Trough Reflector with the Yagi Antenna eliminates the need of stacked Yagi array, phasing cable and requires minimum efforts to install. Polarization of the Yagi Antenna can be changed in the field by use of simple hand tools.