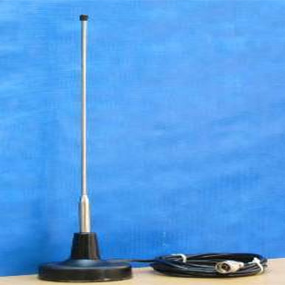 This Magnetic Mount Whip Mobile ¼ Wave, all brass antenna, uses base loading technique for smooth impedance matching. Air-cored base loading technique keeps the losses to minimum.
This Magnetic Mount Whip Mobile Antenna comes with a 3.5 Meter long RG-58 Coaxial Cable with N-Male Connector and can be fixed on any type of vehicle with metallic roof.
Design & Construction:
Vehicle Mount Antennas are available with two different types of mountings as Magnet Mount or Fixed Mount models.
Both models are mounted at the roof height of the vehicle poviding the maximum communication range and perfect omni directional coverage.