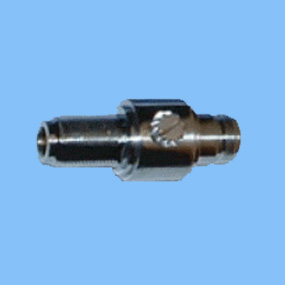 This Slim Line Surge Arrestor is designed with high pressure contacts, premium plating, and are compensated to offer the best possible IMD performance. The functionality of surge arrestors can be readily evaluated by using ordinary RF field test equipment.
If there is no degradation of the VSWR or insertion loss of the arrestor, then the surge arrestor is reassuringly functioning as a transient lightning protection device. VSWR and insertion loss measurements can be made by using vector or scalar network analyzers as well as a variety of other readily available field test equipment.
No other maintenance is required. As obvious as it may seem, surge arrestors should never be installed or tested when a storm is occurring or approaching.
Design & Construction:
This gas tube surge arrestor is broadband RF devices that are capable of allowing a dc bias to pass along the center conductor, while shunting the lower frequencies associated with lightning induced transients to ground. This device is to be installed in series of a RF Coaxial cable (between antenna and coaxial cable).
This gas tube surge arrestor contain a field-replaceable gas tube element. Under normal operating conditions, this gas tube element functions as a simple capacitor with a shunt capacitance of less than 1 picofarad. In the presence of a lightning-type transient, the gas within the element ionizes and switches the gas tube to a low impedance state.
In this low impedance state, the gas tube passes any lightning surge current present on the center conductor to ground. Gas tube elements can divert lightning surge currents reaching a peak of 10 kA to ground without causing any degradation to the element.
Model
SLA-25
Operating Bandwidth
DC to 2500 MHz
Insertion Loss
Less than 0.2 dB
VSWR
1.2:1
Impedance
50 Ohms
Maximum Average Power
100 Watts
Throughput Energy
Less than 1 millijoule
Maximum Impulse Discharge Current
(8/20 Ásec waveform) 10 kA
Required Maintenance
Routine periodic inspection required
Weatherproofing
Waterproof, shockproof, corrosion resistive
Operating temperature range
-30 to +70 Degrees Celsius
Type of Connectors
N-Female and N-Female
Housing
Brass Silver Plated
Male Contact
Brass Gold Plated
Female Contact
Beryllium Copper Gold Plated
Insulators
PTFE
Antennas and Accessories manufactured under the brand

STAR ANTENNA

are...