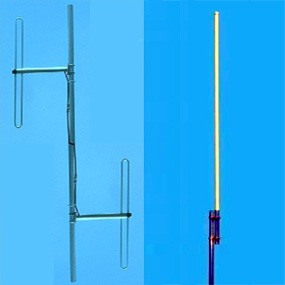 Our industry leading broadband omni directional antennas are available in two versions covering the VHF and UHF bands. These antennas provide a smooth VSWR and constant Gain over the entire specified bands.
We pride ourselves in offering the Aero Band Antenna which seamlessly provides 20 MHz bandwidth to cover the entire VHF Aviation band from 117.9 MHz to 137 MHz.
For UHF, we offer the Broadband Fiberglass Collinear Antenna covering a wide span of 400 MHz from 460 to 860 MHz and providing a stable gain of 6 dBi. This antenna is ideally suited for broad band omni directional requirements for wireless internet as well as voice and data radio links.