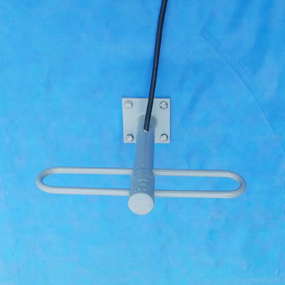 The SXD-3503 (CLG) is a rugged antenna with low VSWR and high gain covering 350-365 MHz. It is suitable for ceiling mounting as a repeater antenna in basements, to boost mobile signals.
Design & Construction:
The antenna consists of single folded dipole, horizontally polarized. The antenna maintains constant gain and VSWR over its bandwidth of 15 MHz., making it highly suitable for single or multi-frequency systems. All cable connections to the dipole is sealed in epoxy for protection against moisture ingress.
Molded N-Female antenna termination connector ensures complete water proofing.