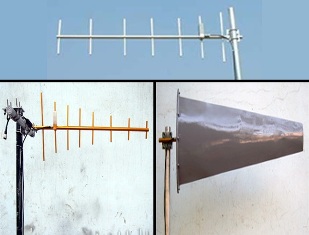 General:

UHF Yagi Antenna is rugged all weather model, uses high class anodized aluminum sections. Stainless steel mounting hardware is supplied with the antenna and the antenna comes in pre-assembled condition with permanently fixed elements in to the support boom and does not require any field tuning or adjustments. The antenna can be mounted to obtain horizontal or vertical polarization.

The Yagi Antenna can be supplied as GOLD ANODIZED.


Design & Construction:

The yagi antenna feed is designed with tunable feed eliminating the use of folded dipole. The unique design of the Yagi antenna uses a "Gamma" feed working as matching device for low VSWR and specified High gain. The antenna termination uses N-Female connector fixed on the antenna dipole. The balun and dipole feed point are sealed in Nylon radome to make it weather proof and are fixed on the boom of the antenna. All insulators are made of virgin TEFLON.