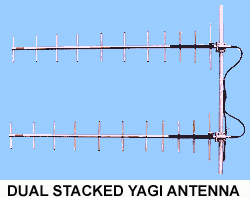 General:
This robust, light weight and all weather Dual Stacked Yagi Antenna is manufactured using aircraft Quality high grade anodized aluminum tubes and rods. The Dual Stacked Yagi Antenna is supplied with a stacking pipe as mounting accessory. The stacking distance is factory adjusted by fixing mounting clamps on the mounting pipe to deliver maximum gain. The phasing harness cable with molded cable joints and N-Female antenna termination is also supplied with the antenna. The installation requires no tuning or adjustment of stacking distance resulting in the installation of dual stacked yagi antenna an easy and simple job.

Design & Construction:
The yagi antenna feed is designed with tunable feed eliminating the use of folded dipole. The unique design of the Yagi antenna uses a "Gamma" feed which also works as matching device together with antenna tuning facility to keep the VSWR low ,resulting in increased efficiency of the Yagi antenna. The antenna uses N-type Female termination.

The antenna can be mounted to obtain either horizontal or vertical polarization . For this, the antenna can be stacked either horizontally or vertically to control the beamwidth in the desired plane.