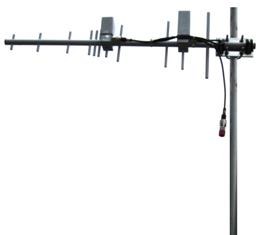 General:

Dual Band, 900 & 1800 MHz., UHF Yagi Antenna uses high class anodized Aluminum and stainless steel mounting hardware materials and comes in pre-assembled design with permanently fixed elements in to the support boom and does not require any field tuning or adjustments. The antenna can be mounted to obtain horizontal or vertical polarization. A power divider cum combiner cable is supplied with the antenna to combine 900 & 1800 MHz. frequency signals into a single antenna terminal.

Design & Construction:

Two independent gamma matching units provide a sleek and symmetrical look and design to the dual band antenna which finds common use for mobile GSM and CDMA, dual bands.